This is a Sponsored post written by me on behalf of
BIC 4-Color pen
. All opinions are 100% mine.
When I was younger I had a magic pen. Wherever I went, I had more than just black ink at my ready. Pink, greens, reds, blues - I had a rainbow of colors in one pen.
Who remembers the all-in-one multiple color pens we had as kids? You know the ones I'm talking about, where all you had to do was click down your favorite color – blue, red, green, or black – and BOOM! Instant color. When you wanted to switch colors? No problem! Just click down one of the other colors and it was there; no need for multiple pens. These were my magic pens. They were my favorite! I never had to carry more than one pen on my person because the pen itself contained 4 Inseparable Colors in 1 Pen. The pen felt as if it were a special secret of mine I cherished daily. Then, one day I couldn't find it anymore. For years I carried multiple pens around, ignorant to other options. I had no idea
4 Inseparable Colors in 1 Pen
still existed in one pen until I saw these commercials for BIC® 4-Color™!
Cue a wide-eyed, heart pounding, edge-of-my-seat watching
gasp. They do exist!
In that moment, I knew I'd met my newest investment. My "magic" pens were back.
I am a pen addict. Pens are everywhere in my house. Pens are in my desk, in my backpack, in my purse, in my pencil holders on my desk, in the center console of my car, and in a filing cabinet
beside
my desk. Sometimes I find them stuck in between cushions or buried in quilts. I've got pens coming out of my ears. Why would I still need 4 Inseparable Colors in 1 pen?
Whenever I go to buy a new pen, no matter its purpose, mom looks at me and says: "More pens? You don't need more!" Then I try to convince her I do indeed need
more.
This particular persuasion argument was simple: The BIC® 4-Color™ pen isn't a regular pen. This pen means convenience, less clutter, better organization, a lot of fun, and, most importantly, saved money. (As a college student swimming in loans, money is always a huge issue.)
Here's why:
As a college student, the most important thing you can do is
stay organized
. As a high school student, the most important thing you can do is
stay organized
. As a (insert your profession here – full-time mom or dad to business person), the most important thing you can do is
stay organized
. I learned this in high school from hard honors, college prep, and dual enrollment courses. Organization keeps stress at bay. It saves a lot of headaches and hair pulling. This applies for everything from to-do lists to class notes. (All of your note-taking means nothing if you cannot keep your thoughts organized!) The best way to organize is with color! Color coding is a fun and easy way to organize thoughts or outline; the BIC® 4-Color™ pen makes this even easier.
My usual tool for organizing course notes, formulating outlines, or any other thought collection is to carry around this bag of colored pens, black pens and pencils that is bursting at the seams.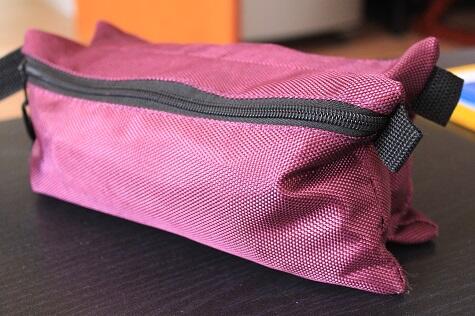 Goodbye bulk, hello convenience.
The majority of my backpack weight is
this
beast. I need colored pens for organization all of my black and colored pens are being lugged around with me! Pen weight adds up fast and is awkward and cumbersome. Plus, buying all of those extra packages of colored pens adds up in price! If I run out of one pen color, I have to buy a pack of four or five colors I do not need to get the color. (The excess pen-clutter adds up fast, too.) Being able to carry only one pen around with me, complete with four fun and expressive colors, lightens my backpack, lightens the load on my wallet, and increases my productivity, no more wasting time hunting through my pen bag for the right color! Where I had to carry a mass of pens, I will now only have one.
Best of all: BIC® 4-Color™ are refillable!. No more having to constantly rebuy my pens every time I run out. (As an eco-friendly fanatic, the less "junk" I throw away, the better.)
Here are some ways that the 4 distinct colors (and their unique personalities) of the BIC® 4-Color™ pens can help organize your life:
When creating To-do lists…
-
Red:
Important & urgent (and for crossing off your completed tasks!)
-
Green:
Important and semi-urgent
-
Blue:
Important and not-urgent
-
Black:
neither important nor urgent.
When organizing my planner…
I organize by color! This helps me coordinate what I have due for classes and for appointments throughout the month. For example: Red, for all of his Type-A-ness, is for the urgent stuff, like exams and major assignments. Green, who is often left out in favor of the others, tends to be for meetings or appointments. Blue, always in competition with Black, beats him in a race for the lesser important assignments, such as weekly things. Lastly, Black, the "Undisputed Master of the World," usually lists the courses, any extracurricular activities such as seeing friends, or personal goals for the week – since they seem to rule my world.
Other ways BIC® 4-Color™ pens improve your busy life:
-
Organizing notecards.
As a busy college student, one of my study methods is creating notecards. This is a valuable study method I learned in high school. Sometimes I create notecards on the run! Separating definitions from examples or emphasizing important words using different colors is only one color-click away with the BIC® 4-Color™ pen.
-
Organizing note outlines before or after class
. Outlines are a great way to stay organized! It is another great study technique as well. Headings, subheadings, definitions, examples, and emphasis are all easily organized with the different colors BIC® 4-Color™ pens offer.
-
Organize and outline thoughts, for any project
. Whether I am outline a novel, a blog post, an email, or a letter having four colors in one pen conveniently allows for planning what I want to say. (And for having fun while doing it!)
-
They are great for fun and expressive proof reading.
Red likes when things are correct, so it is great for correcting papers! But if you are in the mood to give jealous Green a little bit of lovin' give him a shot at the game.
- Lastly, my personal favorite:
note taking
.
Rather than keeping that bulky pen case on me to organize my notes, I can use one pen! Colored ink is my way to organize notes in the heat of an intense lecture. Definitions, margin notes, concept drawings, side-topics, separation of topic headings – in all of these I alternate colors. Normally, I have to sit with my huge pen case on my lap, digging and scrambling in between colors to search for the next. But no more! With BIC® 4-Color™ pens, I am just one click away from a new color. I do not have to worry about missing vital lecture material while searching for a new color, or risk losing the color all together: one click and I have my desired color.
BIC® 4-Color™ pens are not only great organizational tools. They also fun & colorful creative expression!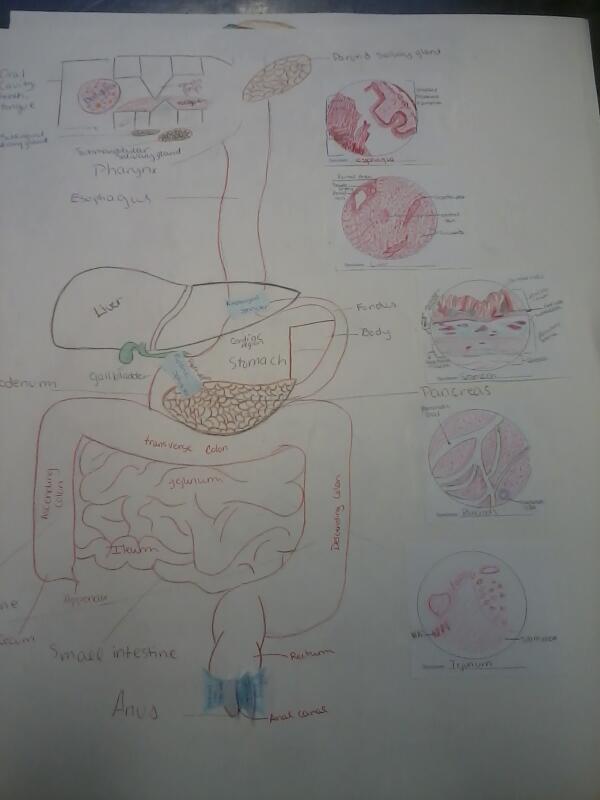 Last week, I was super excited to use my laboratory partner's BIC® 4-Color™ pen on our creative project. We labeled, drew, and decorated a model of the digestive system with the use of two BIC® 4-Color™ pens! (Which, I might add, we won 1st place for our colorful, creative, and accurate depiction.) It was my first time using the new BIC® 4-Color™ pens and without question, I was sold. They wrote smoothly and their color was vibrant.
In my personal life, BIC® 4-Color™ pens are great for organizing story outlines or making side commentaries on what I need to refer back to, change, or add. Without the colors, commentaries become muddled. Most of my writing is on the fly – in bus stops, at doctor's offices, or while I'm curled up in the corner of a coffee shop. It is also usually spur of the moment and unplanned. When inspiration strikes, I heed her sweet call! Carrying around a pen case to hold my colored
and
black pens to suffice this is a pain and simply not practical. Carrying around just one or two BIC® 4-Color™ pens, though? That's music to my ears.
They are also a great way to journal or write letters, in multiple colors for whatever fits your mood! The 4 colors of the BIC® 4-Color™ come with 4 distinct personalities for expressing whatever mood, feeling or thought you may have. Some days when I am journaling, writing letters or brainstorming I feel like writing in red, green, or blue ink – something different than black – dependent upon my mood. Blue and black are more serious colors, for serious business – though they may have to vie for who wins my attention. When I need to make corrections or I am feeling Type A, demanding perfection and correctness, I might want red. Green and I share a common bond; we're kindred spirits. He is a foodie, I'm a foodie. He's the quiet one, sometimes overlooked, as am I: he'll always have a special place in my heart and a constant home in my journal.
But
without the BIC® 4-Color™ pen, I might not have the color on me I need to express myself in that moment because I didn't want to lug around my pen case. With the BIC® 4-Color™ pen that problem is solved: 4 colors, one pen, and easy portability.
Confession: I'm a closet doodler. Perhaps not what most people think of as a use of artistic talent, but doodling is an artistic weak-spot of mine. When I cannot take the time to create professional pieces of art, I doodle – in notebook margins, on printer paper, whatever I can get my hands on. I cannot help it! Fun & colorful expression is a huge part of my life. 4 colors with 4 distinct personalities help in expressing different moods and feelings through my doodles. It is how I de-stress and express myself when I have no other means. The color variety in one pen allows me to immerse in my doodles, filling them with color. I can really "get in the zone." My friends and I have even doodled together, passing around the pen, each using a different color, to create one master doodle together!
I am looking forward to stocking up on these and using them throughout my summer semester. I am also super excited to find out that there are more BIC® 4-Color™ color options in select stores throughout the country and world. Check out
BIC
for more information on the 4-Color pen and all its options. Visit your local stores or shop online in the convenience of your own home at
Staples
or
Amazon
to purchase a pen of your own. Experience the awesome!
To get to know the four colors better, you can follow BIC® 4-Color™pen on
Facebook
and
Twitter
. Follow their adventures, enjoy their fun daily updates (from selfies to live tweeting and Green's poetry), and receive more information on BIC® 4-Color™!